Door "Rotor" EI 120 with 1 leaf – CE – smoke tight "Sa"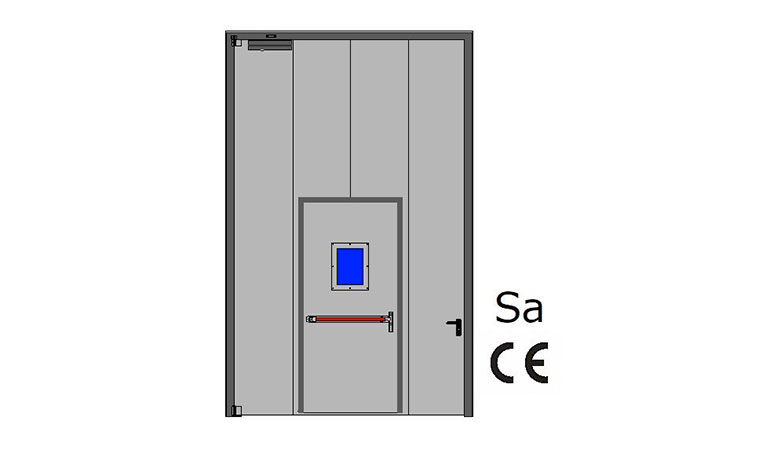 The 'ROTOR' large dimensions smoke-tight 'Sa' hinged door, tested according to UNI EN 1634-3, is born. Our EI120 steel doors add to our wide range of CE-certified, smoke-tight Sa and Sm smoke-tight internal and external use.
Large Size Fire door EI 120, , fire resistance certified according to current standards.
Trade name: 'ROTOR
Consisting of:
– FRAME: made of high-strength press-bent steel profile to be fixed to masonry, capable of supporting high radial loads.
– SEALING GASKET: heat-expanding positioned on the vertical and horizontal sides of the frame, and at the central stop.
– SMOKE SEAL "Sa": placed on the vertical sides and on the horizontal side of the frame and in correspondence of the central stop
– LEAF: made of coupled steel sheet modules with programmed deformability.
– Insulating plaster resistant to high temperatures.
– HINGES: 02 per sash, ground to support large radial loads.
– CLOSING MECHANISM: of the leaf by means of a compass door closer. Automatic reclosing is guaranteed for a maximum opening angle of 120°.
Standard accessories:
– DOOR CLOSER: hydraulic overhead compass.
– HANDLE: Standard handle height 950 mm (DPR 503).
– LOCK: fireproof with latch and deadbolt CE marked according to EN 12209.
– CYLINDER: European coded with 3 keys.
– PLATE: metal with door identification data.
– FINISH: epoxy-polyester powder coated, oven baked, scratch-resistant embossed surface.
– COLOUR: standard RAL 7035 light grey