EI30 Fixed Fire Glazing Fire – Bulletproof FB3 – Burglarproof RC3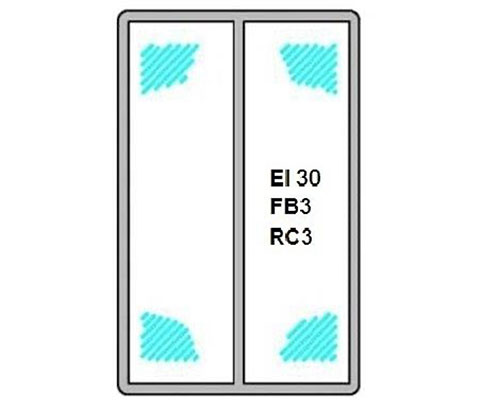 EI30 fixed fireproof glazing are an effective fire barrier, lending brightness and elegance to the environment.
Made of reinforce steel and with bullet-proof BR4 glass, they are particularly suitable for banks, post offices, security institutions, and large spaces where aesthetics and technical aspects are to be reconciled with safety.
EI 30 fixed glazing with certified steel profile:
EI30 fire resistance class UNI EN 1364-1
FB3 bullet-proof UNI EN 1522/1523
RC3 resistance class UNI EN 1627:2021
Made of:
FRAME: constructed entirely from galvanised steel tubular profiles, 15/10 in thickness, with high-density fireproof material, internal reinforcements with bulletproof materials.
GLASS: layered fire resistant, for indoor use, consisting of sheets with interposed fireproof material, EI30, bulletproof BR4, fixed to the frame in an off-centre position in relation to the profile thickness by means of snap-in glazing beads.
SEALING GASKET: Double thermo-expanding gasket for sealing hot smokes, applied on the inner parts of the mirror and on the outer perimeter of the frame towards the masonry.
MOUNTING: carried out with screws and expansion plugs for masonry or with self-tapping screws on a metal sub-frame.
PAINTING: powder-coated in RAL 7035 semi-opaque textured color.